Vitamin C Solutions
Multi-treatment Resistant Fungal Skin Infection Resolved With Topical Dehydroascorbic Acid Vitamin C Serum - Case Study
The fungal infection in this case study was resistant to multiple anti-fungal drugs prescribed by the subject's own doctor and specialist over a 12 month period. The infection was ultimately resolved with Dehydroascorbic Acid (DHAA) Vitamin C Serum in less than three days with complete skin repair and healing occurring at around three weeks.
Background
A compromised immune system is usually the trigger that allows chronic fungal infections to take hold. The subject of this case study had Osteomyelitis in his childhood after a severe bruise on the shin of same leg as the fungal infection initially appeared. It took two years to fully recover from the initial osteomyelitis infection; the subject then suffered a relapse of the osteomyelitis around four years ago and lost a significant portion of the calf muscle as well as the removal of the bone marrow (with drains). Therefore, it is likely the leg the fungal infection first took hold of may suffer from compromised blood flow and/or compromised immune response due to these previous osteomyelitis infections and the extent of permanent damage that resulted.

In September 2017 the subject suffered another illness, which further compromised his immune system. Although the fungal infection was present for at least 6 months prior, it rapidly escalated from the top front of the right foot to the ankle, then the right calf before spreading to the left foot, ankle and calf then later to both hands.
Treatments Which Failed to Stop The Fungus
The subject had become frustrated with a lack of progress on the fungal skin infection from conventional medicine after many topical prescription fungus treatment failures and finally resorted to several alternative treatments. The alternative treatments included cider vinegar, baking soda, colloidal silver and hydrogen peroxide. The alternative treatments and the prescribed medications all made the condition flare up, swell or worsen. He also took a wide variety of oral vitamin and mineral supplements including vitamin C tablets. All had no effect on the progression of the fungal infection.
Topical Vitamin C Serum Treatment Results
Three weeks ago the subject started using a small molecule form of Vitamin C Serum. The topical vitamin C DHAA serum relieved the itching, swelling and pain over the first three days.
After three days all irritation and spreading had stopped
By the first week the skin was nearly completely healed with no further eruptions
At two weeks all redness and inflammation had gone
On week three all scaly skin had gone
Update : At 6 weeks post treatment the fungus has not returned.
Vitamin C DHAA Serum Dosage
The subject applied three or four drops of DHAA vitamin C serum on each leg/foot and arm/hand twice per day (12 to 16 drops total per treatment - twice per day). The serum was spread over the entire affected area with a wetted hand after showering. The case study will continue as several small fungal patches outside the treated area are evident and the toenails, which may still have residual fungal pockets, will now receive daily treatments of DHAA Vitamin C serum.
Pic Below: Suspicious lesion inside left elbow has not been treated yet.
What Type Of Fungal Infection Was It?
Skin scrapings and a biopsy were performed after the initial treatments failed but nothing identifiable was found in the lab or cultures.

Nail Fungus/Yeast Infection Types Suspected
Distal subungual onychomycosis DSO - Main cause of athletes foot
Tinea pedis or athlete's foot
Candida albicans - Candida onychomycosis - Yeast infections that can affect skin and nails
Tinea corporis or ringworm
Superficial onychomycosis - unlikely as it usually stays confined to the nail
As the fungal infection was multi drug resistant the patterns of the lesions may not conform to those seen in normal fungal skin infections and it is this that makes identification difficult.
The Subjects Email Report
In early August 2016 I had a slight fungal infection in my large toenail. Various prescription fungal treatments failed to keep it under control and could not get rid of the infection. Over time a rash appeared on my foot. Initially I used over the counter and prescription anti-fungal treatments.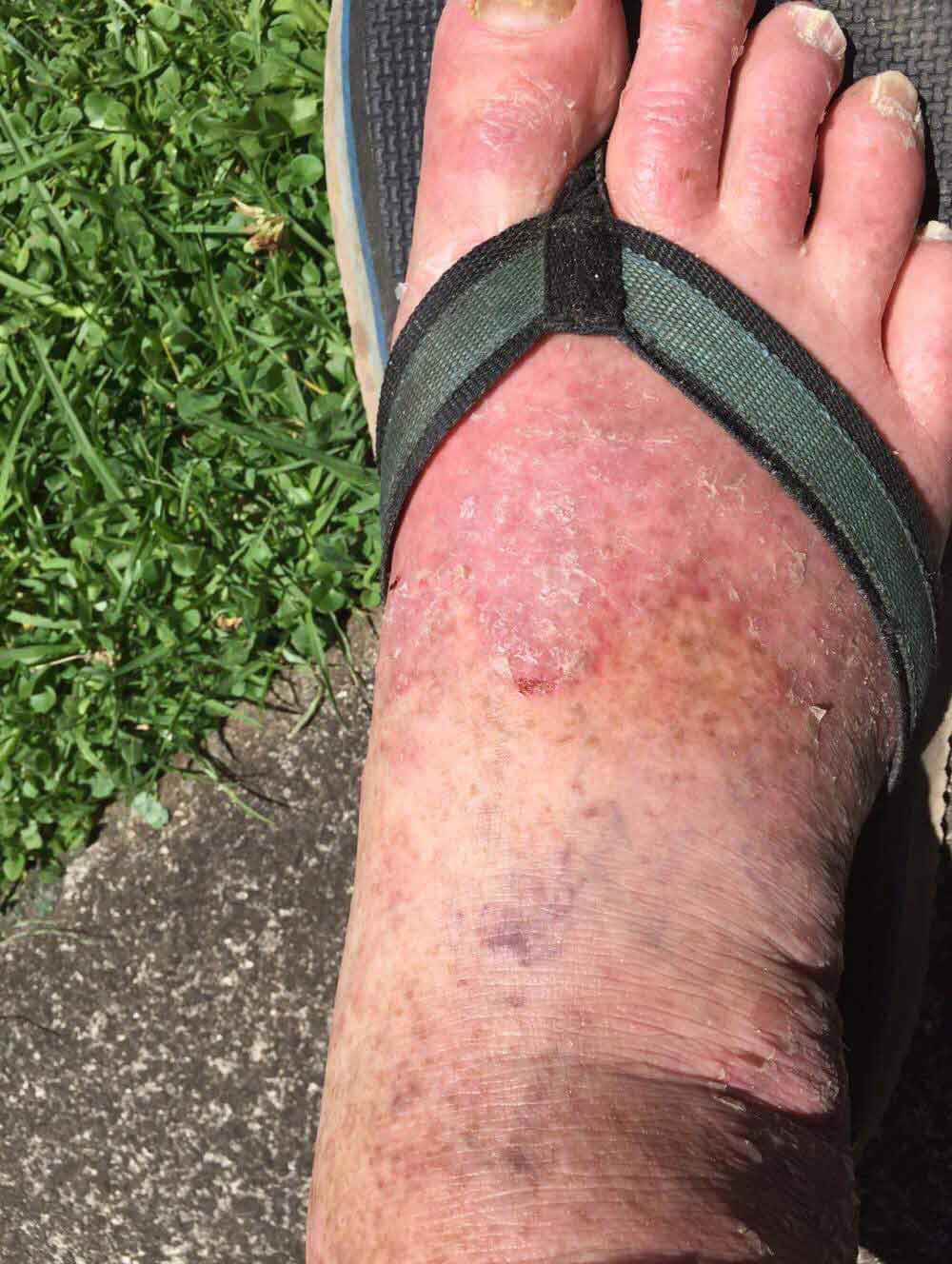 In September 2017 with a compromised immune system, the rash, almost unbearable, was inflamed, red, scaly and extremely itchy. Both my own Doctor and hospital specialists prescribed a variety of anti fungal dermatology treatments with no success, not even temporary relief.
Their treatments actually inflamed and irritated the skin more. The rash was spreading further up my leg and on both my hands with small blister like puss filled eruptions occurring making my skin very painful.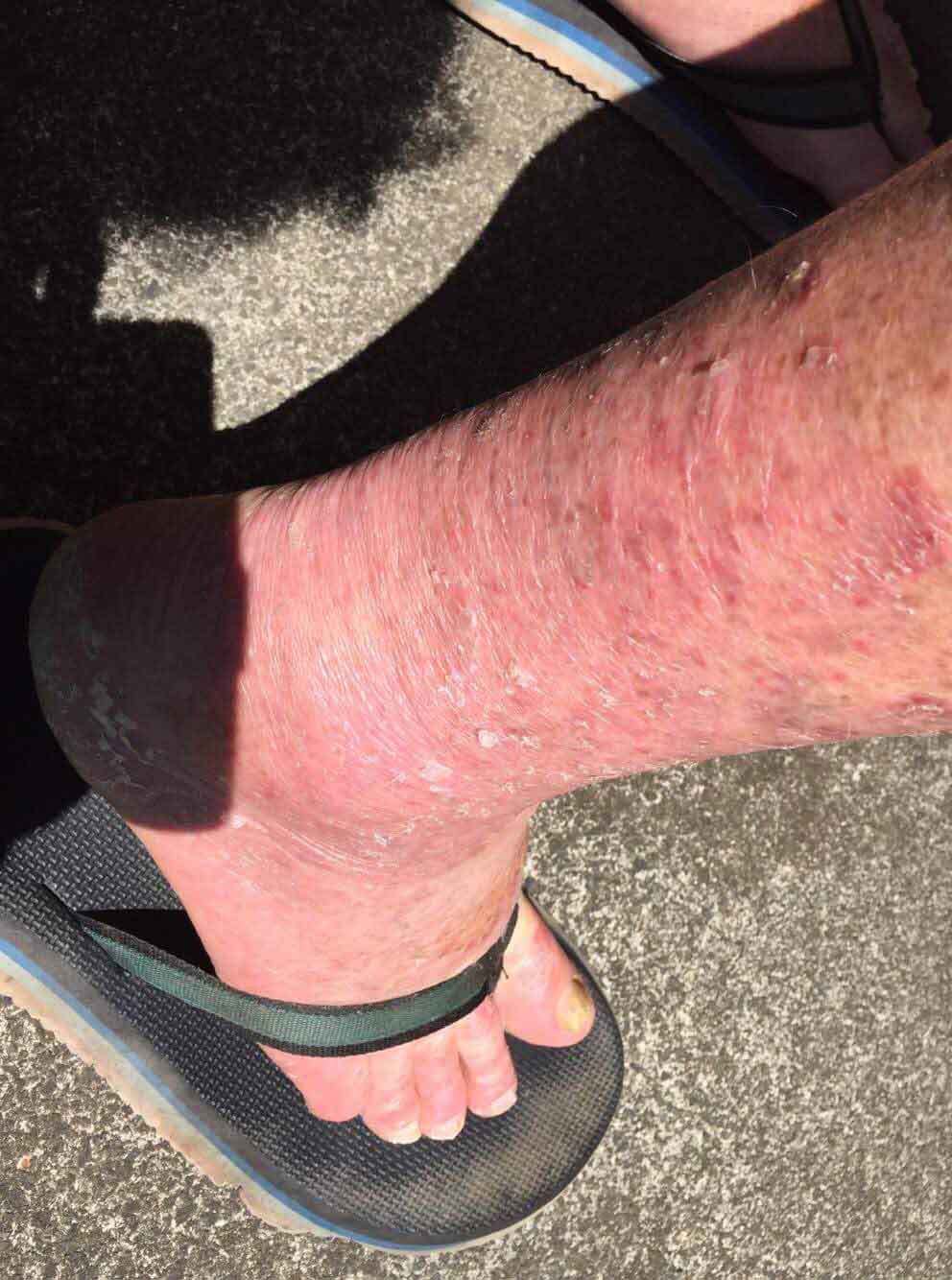 I was so desperate to get relief I was even making up my own creams in the end.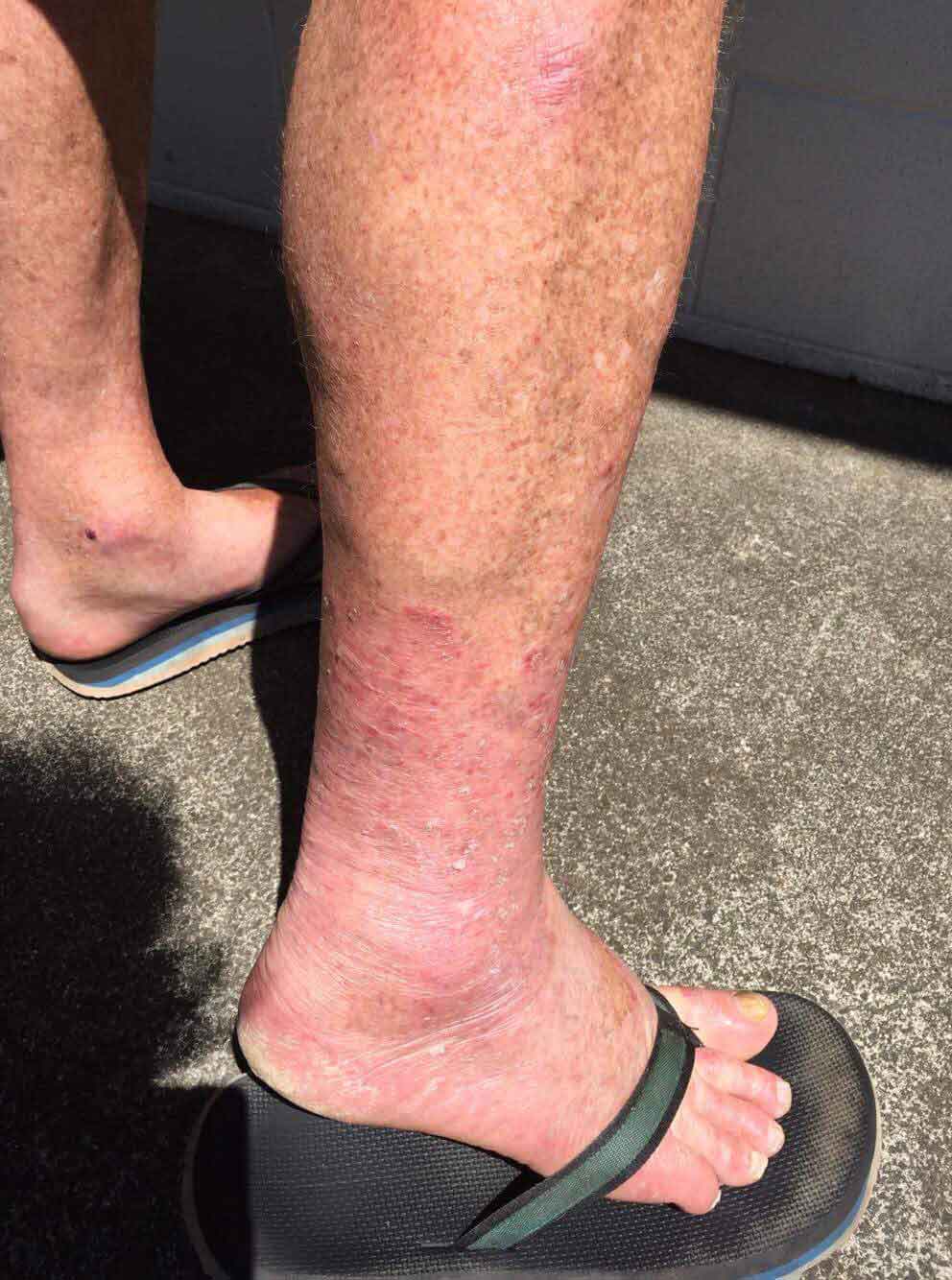 I was then fortunate to aquire the Vitamin C - DHAA Serum and I am not only amazed at the results but thankful for the relief it has brought me.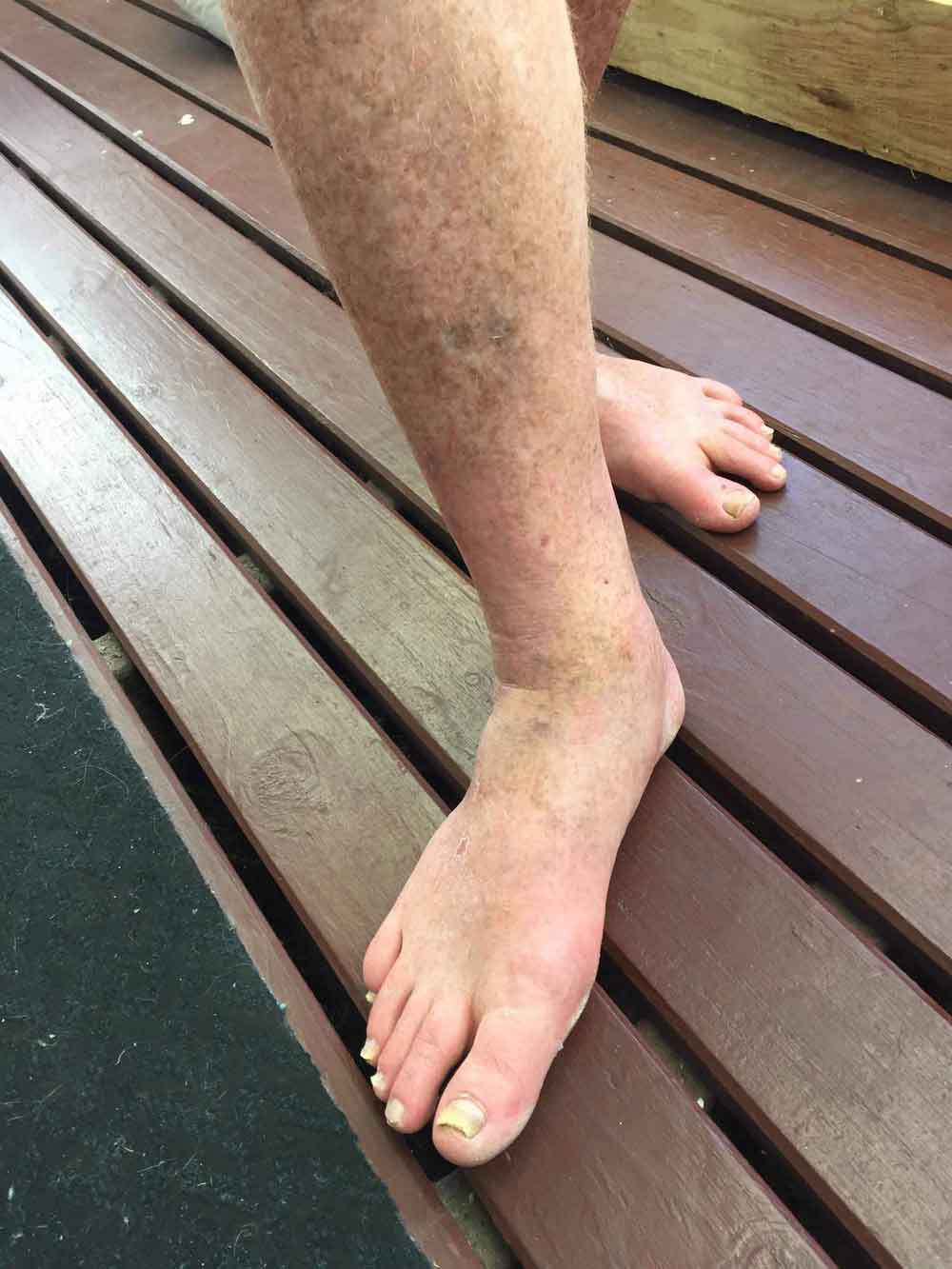 I thoroughly clean the area and apply the DHAA Vitamin C Serum morning and night. I use an eye dropper and apply three to four drops and gently rub it in thoroughly so it absorbs into the skin.
After three days all irritation and spreading had stopped. By the first week the skin was nearly completely healed with no further eruptions and after two weeks all redness and inflammation had gone. On the third week all scaly skin had gone.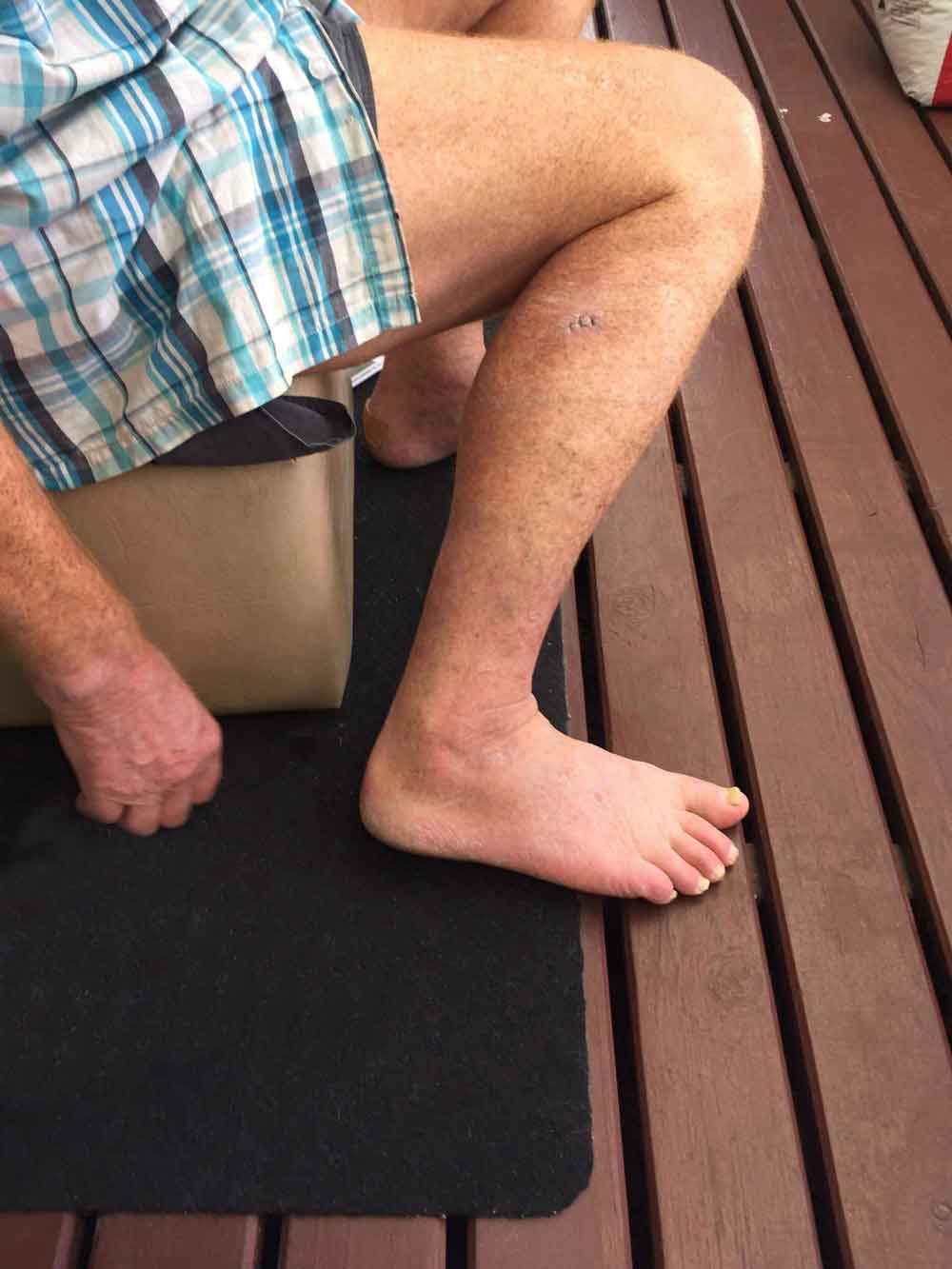 I continue to carry on using the Vitamin C DHAA serum. I recommend to anyone suffering skin disorders such as I have been battling to try this serum. To date there is nothing I can compare with and I will now always keep a supply on hand.
Ralph W***** Mangere Bridge
Case Study Two
Subject 66 year old male had mysterious persistent lesion on right mid back for more than three years. Had tried all usual over the counter medications and some alternative medications without success.
Photo Below: Before DHAA Vitamin C Serum Treatment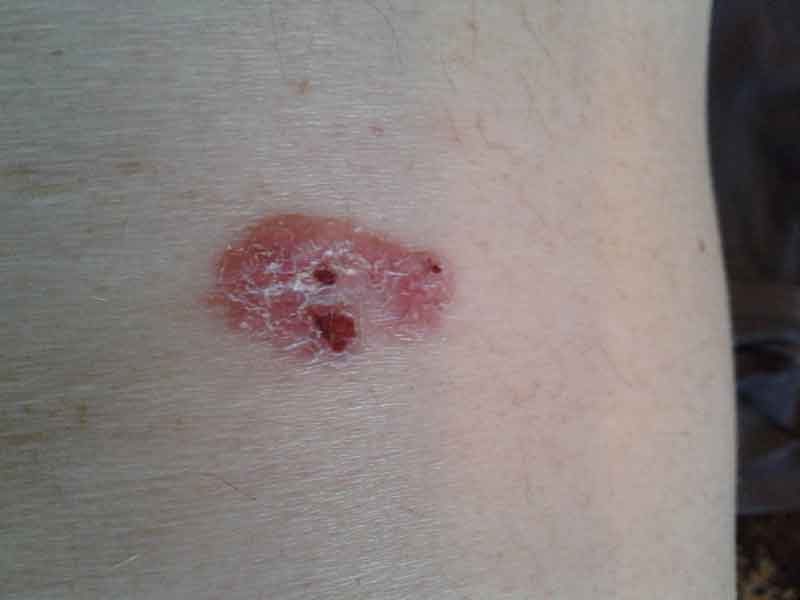 He then applied one drop of DHAA Vitamin C serum to a band-aid wound dressing then left it covering the lesion for 48 hours.
Photo 2: After 48 hours significant healing is apparent. We cannot determine what the condition is other than to comment that it has a ringworm like appearance. If so, it is unusual for a single lesion to be present for so long without spreading. The remaining nodes are an unusual feature. We will post further updates as we receive them and would be interested to know what this condition may be. If you know please contact us.